There are two Account to Account (A2A) systems in Australia - the Bulk Electronic Clearing System (BECS) and New Payments Platform (NPP). One is around 40 years old and based around file exchanges occurring five times each business day. The other is a real time system operating 24/7, 365 days a year with PayID, data rich and line by line settlement in funds held at the Reserve Bank of Australia (RBA). In seven years, 30 per cent of volume has moved from BECS to the NPP. These are largely pay anyone transactions. Other payments using BECS include bulk debits and bulk credits.
Australian Payments Plus' (AP+) PayTo was designed as a replacement for Direct Debits but has exceeded its original purpose. More than 90 per cent of individual accounts are PayTo-enabled through each of the Big 4 banks and more than 60 other financial institutions. AP+ anticipates a range of use cases will use PayTo, including migration of direct debits from BECS, for in-app payments, card-on-file type scenarios, and payroll/corporate use cases.
As the accompanying graphic shows in four quadrants, it's notable that PayTo supports Payee initiated payments (merchants, wallet/app initiated) but also those initiated by the Payer – or someone acting on behalf of them (an outsourced payroll provider, or for an accounts payable function – like MYOB or XERO).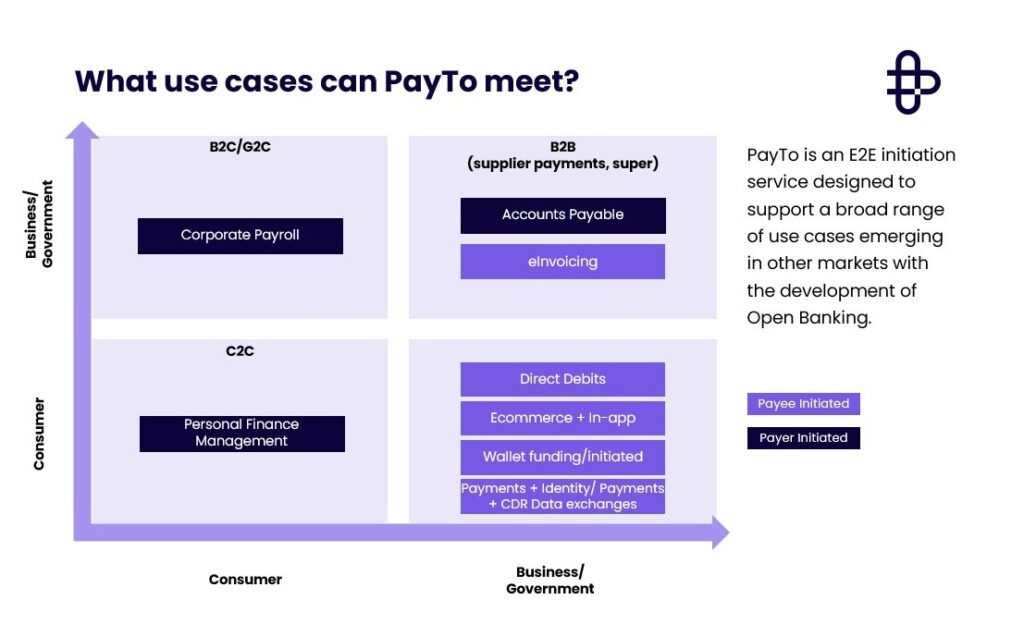 When the industry was building what became PayTo, the Federal Government introduced the Consumer Data Right (CDR), firstly for access to data, and more recently announcements to support action initiation (and, in particular, payment initiation). Similar reforms had been introduced in the United Kingdom, with the Faster Payments Service (FPS), but these did not utilise a specific third-party payment initiation model, like PayTo. We knew payment initiation was coming to Australia soon and wanted to ensure we learnt from the UK experience.
Unlike PayTo, in the UK there was no clear liability framework to deal with mistaken or unauthorised payments. In Australia, with PayTo, the built-in liability protection for unauthorised or fraudulent payments allows Payer institutions to rely on the stored PayTo authorisation agreement and initiate payments in real-time without the customer needing to reauthorise each instruction in their banking channel.
Consents were also stored 'around the edges, not securely and centrally by the scheme operator as with PayTo. This offers important benefits for security of this Personally Identifiable Information (PII), and Payer visibility and control.
Most importantly the UK model of payment initiation meant that a payment initiator needed to connect to every bank their customers used. In the Australian setting, this would mean around 90 separate relationships. More typically, this created a class of intermediary, or gateway, between payment initiators under CDR and financial institutions.
In contrast, PayTo requires only one connection to be made via one access point to support payment initiation (with a payment agreement) from any one of the 70 million enabled accounts. In CDR language, PayTo operates in both the instruction layer and the action layer.
PayTo will not be the only way to initiate payments under CDR in Australia (others will include cards) but with the retirement of BECS, this is likely to be the account-based way, bringing considerable benefits with it, including:
A system that is designed and fit for purpose
Easier access to reachable accounts
Security/liability frameworks
Use of existing infrastructure and investments
Consistent customer experience and expectations
PayTo is the future of third party initiated A2A payments in Australia.
---